Welcome to the Five Oh First Group!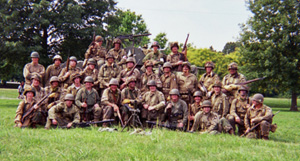 The Five Oh First Group is a comprehensive WWII US Army Airborne re-enacting group based in the Southeast (Knoxville, TN) with over 50 members in 4 Southern states. Our primary impression is I Company, 3rd Battalion, 501st Parachute Infantry, 101st Airborne Division. By participating in living history and educational presentations, tactical battles and veteran's events, we strive to educate the general public to the contributions and sacrifices of all WWII veterans and to honor their service.
News & Quotes
501st in the Battle of the Bulge
December 16 marks the anniversary of the beginning of The Battle of the Bulge. As you know the 101st traces a proud tradition back
more ...
General James Gavin
"Show me a man that will jump out of an airplane, and I'll show you a man that will fight for his country."
Upcoming Events
New event schedule is coming soon!
Event Photos/Videos
>> Videos <<